Local Bands
Please email submissions to contact@NewEnglandSka.com / Post your shows here
---
Guns of Navarone
Boston/Worcester, MA  
Guns of Navarone formed in 2007. Since then we have been playing traditional Jamaican ska from the 1960′s, rocksteady, and reggae music. Our nine peice band is a high energy ensemble of talented musicians based largely out of Boston yet have members from Worcester to Rhode Island as well. Our live shows are tons of fun. We get people dancing, singing, and having a great time. We are a true ska-rocksteady-reggae party band.
Upcoming Shows
Guns of Navarone on MySpace
Guns of Navarone on Facebook
---
Brunt Of It
Rhodeachusetts  
BRUNT OF IT blends a mix of Old School Hardcore Punk Rock with distorted, dissonant ska. Infectious choruses with driving beats are the backbone of BRUNT OF IT's no bullshit sound. In their 14 year existence they have shared the stage with numerous national/regional acts. The current line up continues BRUNT OF IT's tradition of hard core punk, while embracing the ska element more with an addition of a kick ass horn section. One thing is for sure, BRUNT OF IT is here to stay.
Upcoming Shows
Brunt Of It on MySpace
Brunt Of It on Facebook
---
Distance No Object
Manchester, CT  
Distance No Object is a ska band from Manchester CT. Formed in 2010 with the intention of playing original songs in the styles of 1st and second wave ska, reggae, rocksteady, and dub. DNO has taken influence from bands such as the Toasters, Damien Marley, The Slackers, Buju Banton, Mad Caddies, The Specials, The Police, Bad Manners and countless others, in order to create its own distinct sound and style. Distance No Object believes in the power of a strong local scene, and aims to build up the once great network of ska bands throughout New England. DNO consists of members of the bands Stealing From Peter, Red Summer Riot, and Flip Ya For Real. Bringing experience, maturity and intensity to every performance; Distance No Object is intent on making you into a friend and fan of the band. Its a whole new scene. Everyone's invited.
Upcoming Shows
Distance No Object on MySpace
DistanceNoObject.com
---
Llama Tsunami and the Without Helmet
New London County, CT  
Llama Tsunami is an eight piece ska band based in New London County, CT. Like most ska bands, they believe that their music and live shows are all about having a good time. Their style originates from the usual suspects of the genre yet their extremely diverse individual tastes give each arrangement something new to offer. The message is simple: Get over yourself and dance… Seriously. "We play ska. Some people don't like us because apparently ska isn't fun anymore. We beg to differ."
Upcoming Shows
LlamaTsunami.com
Upcoming Album Sampler
Llama Tsunami on MySpace
Llama Tsunami on Facebook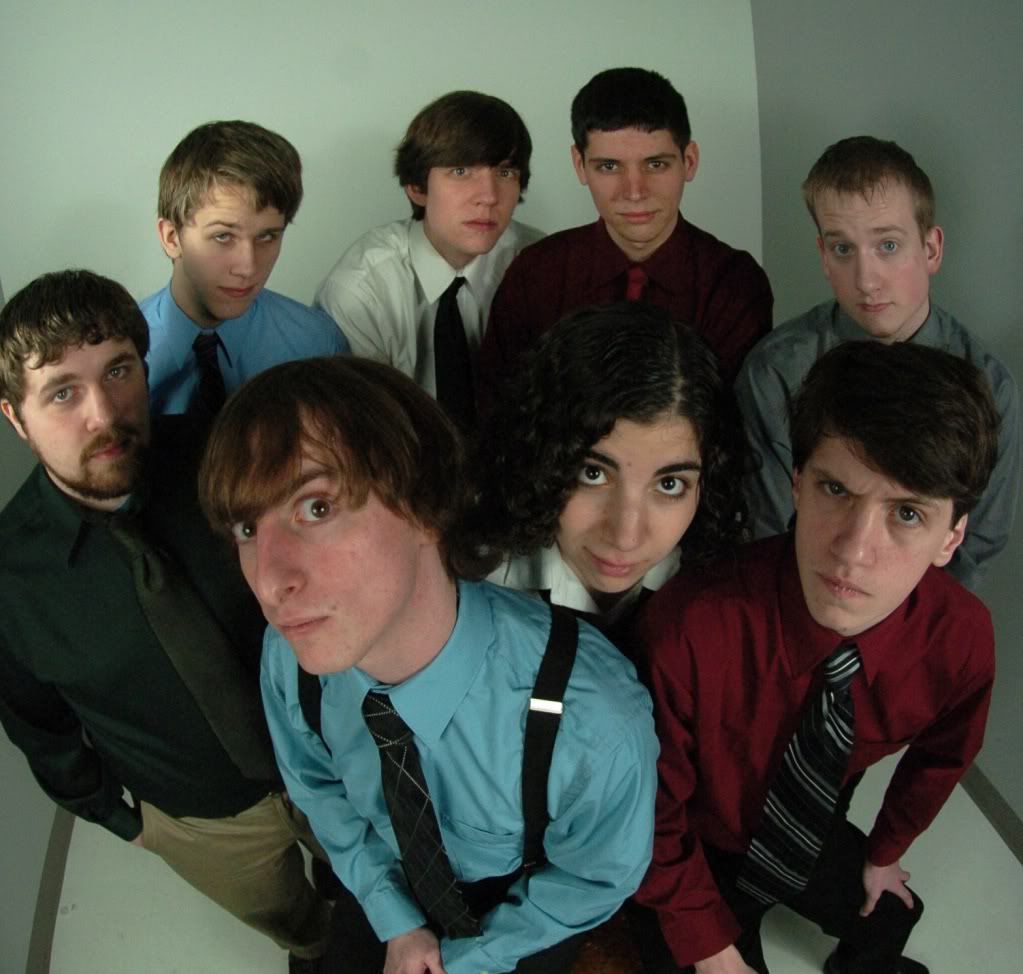 ---
Threat Level Burgundy
Billerica, MA  
Ska/Punk band in Massachusetts that wasn't formed before 2000, haven't heard that one in a while. We are Threat Level Burgundy, a bunch of kids who like to play video games, play frisbee, dub movies, read comics, and oh, make music. We write songs about awkward situations, zombies, the well being of others, our weird friends, facebook status', cartoons, and everyday life. Like every ska band that's ever existed we've gone through line up changes like no ones business, from the tragic loss of our best friend and singer Bill, to our Alto sax player Al having a baby, and our first Trumpet player James realizing guitar is much more interesting to him. But like all good bands we make do and mend. Our main goal isn't being rich or famous, we play ska after all Less Than Jake got the rest of the money available for that genre, it's to have fun as friends, make friends with great people and just let the music speak for itself and hope someone gets some kind of positive message out of it. So feel free to contact us about shows, parties or anything related to music.  
Threat Level Burgundy on MySpace
Threat Level Burgundy on Facebook
Free Music Downloads
Threat Level Burgundy on ReverbNation
---
Short Handed Goal
Pawtucket, RI
Short Handed Goal is a six piece band hailing from Pawtucket, Rhode Island. SHG mixes elements of second and third wave style ska and old style punk. We bring the party to any show, with a fresh hit-you-in-the-face sound and a bangin' horn section to get you skankin all over the dance floor. We're about good times with friends, having a beer, listening to good music. Come out to our shows, we know you'll have a great time with us!
Upcoming Shows
Short Handed Goal on MySpace
Short Handed Goal on Facebook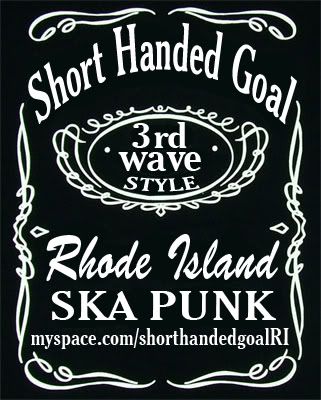 ---
SoundOff
Lincoln, RI
 
SoundOff is a punk rock trio hailing from Lincoln, Rhode Island. Though we do not follow the traditional form of ska (we kinda lack a horn section), we take influence from the California ska/punk bands of Sublime and Operation Ivy, as well as channeling others such as The Stooges, NOFX, The Replacements, and Green Day, leaving us to make each song stand on its own. We sing and play about what we know, from going insane to hometown pride, being bored and A Clockwork Orange. Our energetic shows are sure to have you pogo-ing and skanking like it's 1995, and our infectious riffs and loud guitars will leave you pulling out your old punk records and appreciating punk and ska again! Catch us at a show, we're here to entertain you; money and fame can wait for all we care. For now it's all about keeping the ska and punk scenes alive and thriving!
SoundOff on MySpace
SoundOff on Facebook
---